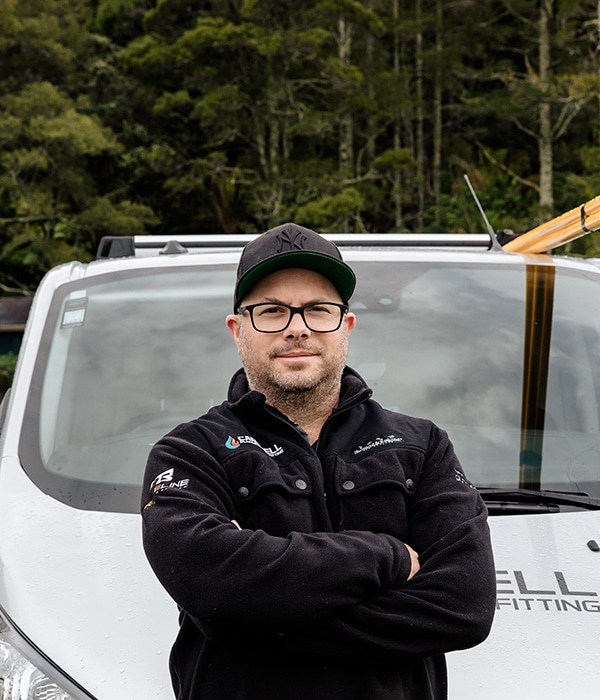 Rowan founded Campbell Plumbing in 2014, back then it was one man with one van named "Dougal." Fast forward to today, Campbell Plumbing has grown to a team to 15 and counting, based out of a large warehouse space in New Lynn, West Auckland, with a fleet of vehicles and machinery to service anything from small maintenance jobs to large-scale projects across Auckland. He puts this growth down to making the business less about him, and more about developing and empowering people in a supportive team environment.
Having over 21 years plumbing and construction experience, including project management in mining construction, has allowed Rowan to understand what it takes to build quality people in a solid team environment backed up with quality service and workmanship. Nothing grinds Rowan's gears more than discovering shoddy work. 
Rowan is a certified Plumber, Gasfitter and Drainlayer and sits on the Auckland Master Plumbers Executive Board. If you follow our Instagram you'll discover he is passionate about all things plumbing, gasfitting, and drainage. You'll also discover how engaged he is with the team both in the office and on the ground across projects. He enjoys being hands on with training and supervising the team. 
Rowan also enjoys the social and supportive side of working in the construction industry.  You'll often see him out playing golf, having lunch, and having good yarns with industry partners. He values making connections and is always looking for ways to support people. In May 2022, he helped organized an event by Master Plumbers "How to start the conversation" mental health in the plumbing industry, partnered with @forallthebrothers.
Outside work, Rowan is a proud Husband to his Wife, Hallie, father of Jack, Billy Daisy, and likes spending time with his family and their dogs, Indie, and Louie. 
Contact Campbell Plumbing & Gasfitting