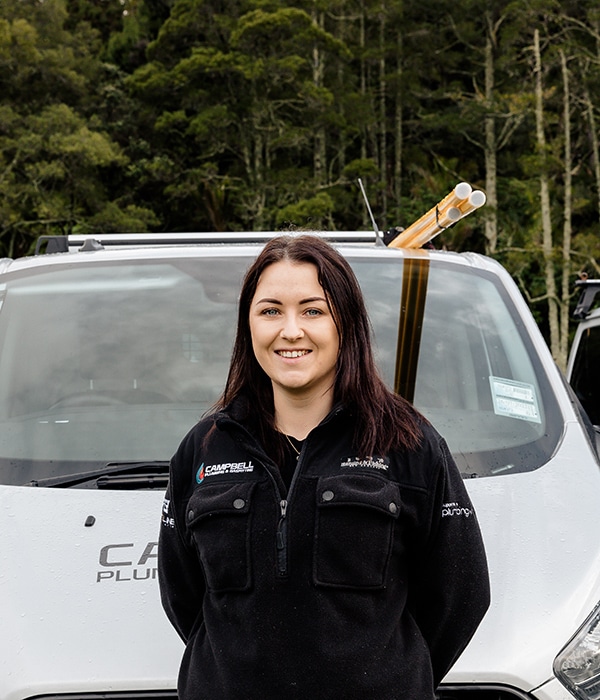 You'll find Rose in the office and at the end of the phone or emails covering two roles, Maintenance Manager and Administrator. These roles involve constant coordination and communication with our Maintenance Crew and Customers to ensure we are getting around jobs as quickly and effectively as possible, all while she keeps our administration in top shape too. 
Rose is a massive asset to our office team. Showcased by a recent testimonial "I just have to say that Campbell Plumbing have been amazing to deal with. From the first moment of speaking with Rose, I knew there would be no nonsense, straight up honest communication and a fair few laughs too. I couldn't have asked for better front-line service."
On top of her fast-paced job, Rose is currently completing a Certificate in Frontline Management to further her knowledge in staff management. Prior to joining our team, she had worked her way up from a labourer/truckdriver into a management position. We're pleased we can support Rose in building on her strengths in this area. Her management background and training will be instrumental as our Maintenance Team continues to grow. 
Rose's favourite part of working for Campbell Plumbing is "working alongside smart and driven people. I love the team environment. It's a very inclusive company, we are all included when making decisions. I thoroughly enjoy the fast-paced nature of the maintenance division; it really keeps me on my feet."
Outside work and study, Rose likes traveling, tramping, spending time with friends and family, and a bit of art when she's feeling inspired. 
Contact Campbell Plumbing & Gasfitting