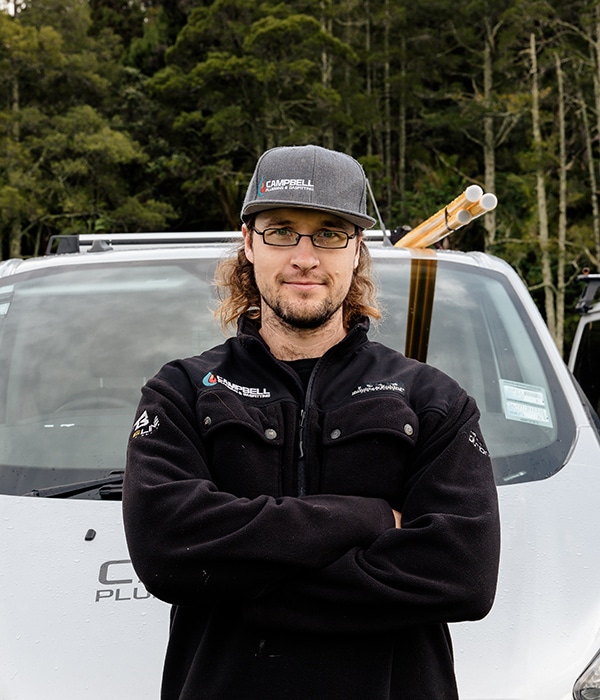 Enrico joined our team in 2021 as an Apprentice. He particularly enjoys the public drainage projects saying, "it's a good challenge and everything is bigger!"
Before starting with drainage, Enrico studied a lot of different things ranging between automotive engineering, civil engineering, fabrication, and nautical science. It's great to have someone with such diverse study background within our team. 
Outside work, Enrico says "If I could do one thing for the rest of my life it would be spearfishing." Which is surprising after this story:
"I had a good close call with a shark one time, was diving off a small island and had just caught a kingfish. I bled and gutted the fish in the water which maybe wasn't the best of ideas considering the prominence of sharks in the area. After I had put it in my chilly bin and jumped back in the water, I was swimming back out to the point when I just chanced to look behind and below me to see a pair of jaws coming straight up towards me. I spun my spear gun around to face the shark and fended it off with a poke on the nose. The shark was still interested though, and we started to circle each other, him trying to get behind me and me trying to keep my spear pointing at him and in front. We did this circling for what felt like ages but probably wasn't that long.  Eventually he decided that that approach wasn't working and peeled off into the gloom. During all this I had drifted closer to the island and was nearing the wash from the waves which further obscured my view. After a few seconds I saw his shadow in the distance moving to the side of me and faced him again when he charged. He would swim right up to me, come into contact with my spear and then peel off again into the gloom. This happened a few more times before he seemingly lost interest and left. I tell you though, it was a nerve-wracking swim from the safety of the shallows around the island out to my boat anchored 100m or so off in deeper water."
We're glad you lived to tell the story and to be part of our team, Enrico. 
Contact Campbell Plumbing & Gasfitting